A.T. Chadwick is a mechanical contracting firm serving the Delaware Valley area. The firm has played a role in the construction of many of the Philadelphia skyline's most iconic buildings. Today, the company continues in that tradition while foregrounding new, modern construction practices.
To increase efficiency and streamline projects, A.T Chadwick has been utilizing the virtual reality (VR) platform Prospect by IrisVR for several years to track issues and inspect BIM data. For their VR configuration, they currently use a conference room with two 70" screens and a higher-end laptop to run an HTC Vive-tethered VR headset.
"I used Prospect at a previous company, so when I arrived here three years ago, I already knew that it was hands down the best VR platform for the job. It's user-friendly, with just one click from Navisworks or Revit to VR," says Dave Verna, A.T. Chadwick's Director of Construction Technology.
Create and track issues in VR
Prospect offers several tools in VR for AEC teams including Viewpoints, which provides an easy way to curate a walkthrough of models, and Issue Tracking, which allows users to create and track issues while reviewing a model. The main tool that the A.T. Chadwick team currently makes use of in VR is the Inspect tool, which enables users to inspect BIM data throughout their 3D models. "We use the Inspect tool to pull out specific measurements—especially height—and the size of piping. The ability to inspect the data in those elements is huge for us," shares Verna.
The firm used Prospect in their workflow for a hospital in Philadelphia. The project included a bank of water heaters that had three different pressure zones. There wasn't enough space to fit everything needed, so they needed to get creative to make the project work.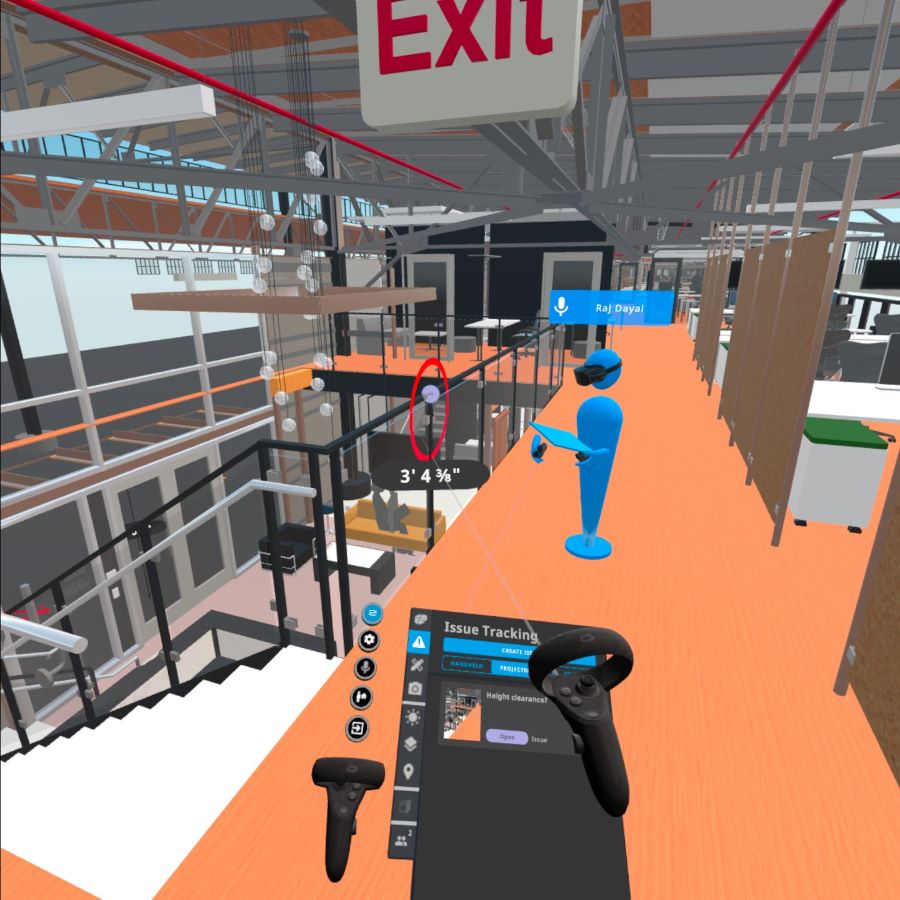 An example of Issue Tracking in Prospect by IrisVR.

Adam Krzyzanowski, BIM Detailer at A.T Chadwick, asked the project's foreman to view the 3D model in VR. "While in VR, the foreman was reaching for valve handles, looking for the gauges, and trying to see where the meter was going to be placed. At the same time, I was watching where he was looking on the screen, and there were several realizations that came out of that," Krzyzanowski says. "Just being able to collaborate in real time in the building and discuss exactly what we were seeing in a 1:1 scale helped us to relocate a few items. This made the whole section more constructible in general."
By going through that process in VR, the project became more efficient and helped them find solutions to address the restraints. "It's one thing to just send files to someone to review, but it's an entirely different thing to actually be in the project and point out things that the team can immediately address," Verna adds.
No comparison to viewing a project in 1:1 scale
When a stakeholder is viewing a drawing of a building project, they're looking at it from the top down. However, when you're virtually standing in the project it's a completely different experience. "When you view the project in VR, the valves that you thought were accessible are no longer accessible as you once thought. There really is no comparison to viewing the project in 1:1 scale with your stakeholders," says Verna.


"When using VR, the first mistake you find on a project will easily pay for the entire year's worth of hardware and software."
— Dave Verna, Director of Construction Technology, A.T. Chadwick


Another one of A.T Chadwick's current projects is a 31-story, 374-unit building in Philadelphia. They used Prospect to coordinate with multiple stakeholders. Spatial constraints can be tight in mechanical rooms and for the team this project was a great candidate for VR to provide an initial walkthrough for the foreman.
Some of the most significant changes in the project were made after the foreman walked through the space in VR. Initially, the team had the mechanical room all welded and flanged with bolt-ups. After the VR walkthrough, they decided to change it from welded mains to Victaulic drops. They were able to make the space more constructable while accounting for the constraints they faced.
"Just from that one VR walkthrough, we ended up spending a day and a half reconfiguring the project. However, it's going to pay for itself in the long run," Verna shares. "When you put someone in a VR headset to view a job that they will be responsible for installing, it makes them critique the project that much more."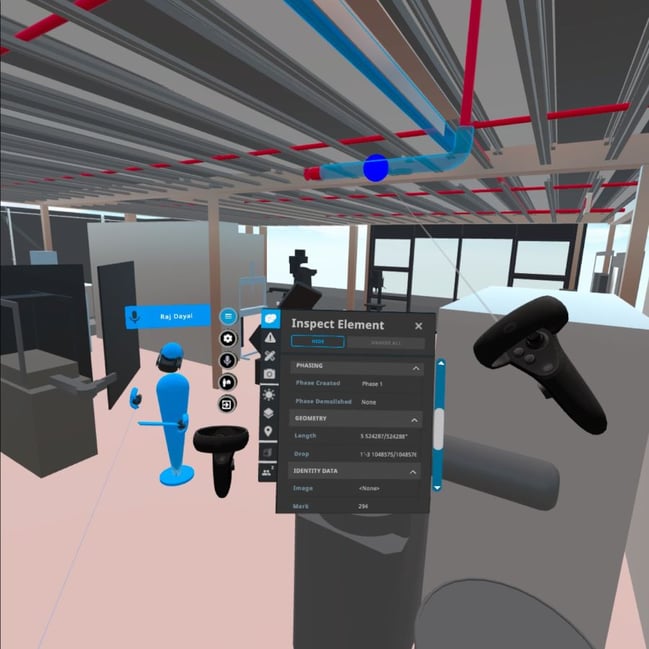 An example of inspecting BIM data in Prospect by IrisVR.
For the project team, putting stakeholders in VR has been a straightforward process. Sometimes they put people in headset and walk away to let them explore the space. For the hospital project, the foreman walked through the project before there was anything built. He spent about 45 minutes in VR going through multiple rooms, which is vastly different than flipping through multiple pages. Verna noted that the "Easier learning curve [VR provides] is invaluable. Looking at the project in 1:1 scale sped up the learning process exponentially."
Performing QA in VR
Underneath the hospital are three parking garage levels. Based on the initial drawings, the foreman thought there was a missing sleeve. The team didn't have much room for error, and the foreman really needed to know what was going on. There was confusion between two levels in the parking garage in the drawing. However, the foreman was able to view the model in VR and virtually walked up the ramps to fully understand the design of the space.
One of the key aspects of using VR is coordination. "It's useful in most of the mechanical rooms that we work on because of the quality control," Verna remarks. "I can't tell you how many times that doing QA in VR has helped the entire environment. I've noticed that people make more edits and changes when in VR."
Typically, when drawings, materials and equipment are added to a job, the foreman or someone else on the site will find something that doesn't really work. "It's going to happen, no matter what we do, no matter how hard we try. But being able to put ourselves there in VR helps us catch more than we used to be able to," Krzyzanowski explains.

For the A.T. Chadwick team VR is an essential part of their workflow. "When using VR, the first mistake you find on a project will easily pay for the entire year's worth of hardware and software," Verna says.
--------------------
Prospect by IrisVR is the easiest way to bring BIM models into VR for design review and coordination. Our team of specialists are here to help.
Start your free 14-day trial of Prospect here.